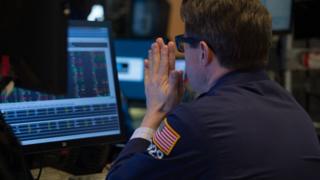 Wall Street shares slid sharply again on Thursday, thrusting the Dow Jones Industrial Average and S&P 500 into correction territory.
The Dow Jones Industrial Average fell by more than 1,000 points for the second time this week, plunging 4.15% plunge to 23,860.
The S&P 500 dropped 100.58 points or 3.75% to 2,581, while the Nasdaq slid 274.8 points or 3.9% to 6,777.1.
The moves follow a day of losses on all key European exchanges.
The 100 share index in London closed down 1.49% at 7,170.69 points. Germany and France fell 2.6% and 2% respectively.
Fears that a stronger global economy will push inflation and interest rates higher are again driving the falls.
The Bank of England's latest policy meeting left interest rates where they were at 0.5% but said a strengthening economy meant interest rates were likely to rise sooner than the markets were expecting.
Weekly jobless figures out in the US on Thursday showed claims for unemployment relief fell to their lowest level in nearly 45 years.
Thursday's sessions saw a return to the steep falls sparked around the world by positive news on employment and wages in the US at the end of last week.
The declines have led to questions for President Donald Trump, who had repeatedly boasted of the market's rapid rise in value last year.
"The president like the rest of the White House is concerned about long term economic indicators and factors," a White House spokesman said.
"The fundamentals in terms of the long term are very strong."
Higher employment in theory means employers have to pay more to attract and retain the workers they want.
Higher wages can allow higher inflation, which then requires higher interest rates to contain it.
Most central banks have targets for inflation within which they are supposed to keep it contained.
Higher interest rates push up borrowing costs for companies and individuals.
Analysts have said for months that the financial markets were due a correction after a long period of rising prices.
Wall Street tumbles to correction territory