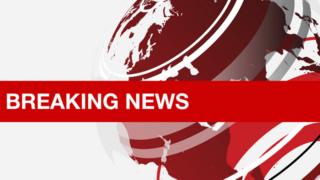 French President Emmanuel Macron's party is on track for a parliamentary majority, exit polls suggest, weeks after his presidential victory.
Two polls have his La République en Marche, alongside its MoDem allies, winning between 355 and 360 seats in the 577-seat National Assembly.
The winning margin is lower than some expected with turnout down from 2012.
The party was formed just over a year ago, and half of its candidates have little or no political experience.
The result, if confirmed, will give President Macron a strong mandate in parliament to pursue his reform plans.
Two polls projected La République en Marche (Republic on the Move or LREM) and MoDem combined winning 355-360 seats, but a third poll by Elabe awarded the two parties a much bigger majority of between 395 and 425 seats.
The second round of the parliamentary election was marked by low voter turnout and was down sharply on five years ago.
Correspondents say opponents of Mr Macron may simply have not bothered to turn out for the second round vote.
Macron 'set for parliamentary majority'