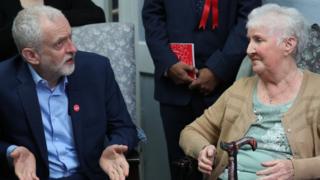 Plans to limit the number of pensioners who get winter fuel payments are "sick and sneaky", Labour has claimed.
Shadow chancellor John McDonnell said 10 million people would be hit by Tory proposals to means-test the allowance.
Labour, which says it will retain universal payments if it wins power, has suggested that axing them increases the risk of people dying this winter.
The Tories say help will go to those most in need but there is opposition to the policy from the party in Scotland.
After the launch of her party's own manifesto, Scottish Conservative leader Ruth Davidson told Sky News she wanted to keep universal payments in Scotland and, under the terms of the 2016 Scotland Act, "devolution allows me to do so".
The SNP, which is in government in Scotland, said limiting help to the poorest was "just wrong", and it was right to give pensioners "who've contributed all their lives a little bit of extra help during the cold winter months".
At the moment, households automatically receive a single payment, ranging from £100 to £300, each December if there is one person living there who has reached the qualifying age and who meets other criteria.
About 12.26 million people received the tax-free allowance in 2015-6, at a total cost of just over £2bn.
Under plans in the Conservative manifesto, eligibility would be related to income – although the party has not indicated what the threshold would be and who would qualify.
But Mr McDonnell told the BBC that the scale of the money that the Conservatives hoped to raise – which he said was in the region of £1.5bn each year – suggested all those who did not qualify for pension credit could lose their allowances, hitting millions of those on low and middle incomes.
---
Do you qualify for pension credits? What is your reaction to John McDonnell's comments? Email us at haveyoursay@bbc.co.uk
---
"This means 10 million pensioners waking up this morning to the fact they could lose their allowance.
"Let me explain why I think is absolutely sick and sneaky.
"A third of people who qualify for pensioner credits don't claim.
"We also have 1.7 million pensioners in this country living in poverty, a million of them in fuel poverty…30,000 excess deaths every winter as a result of fuel poverty and basically people not being able to heat their homes."
'Triple whammy'
Critics have argued that fuel allowances, introduced in 1997, are poorly targeted with everyone getting them regardless of their financial circumstances, including thousands living outside the UK.
In 2014, ministers encouraged better-off pensioners who could afford their heating bills to return the money to the state.
But figures obtained by the BBC found just 29 pensioners decided to decline their fuel allowance in 2014-5.
In their 2015 manifesto, Labour proposed taking fuel allowance away from the wealthiest 5% of pensioners.
But Mr McDonnell said he was "really angry" that the universal principle of welfare support for pensioners, which has been upheld by successive governments, was now being threatened.
"We have a universal benefit at the moment. Why? We know that as soon as you start means-testing, a lot of people don't claim even though they need it because it is so complicated."
Pension changes
Labour have said the means-testing of fuel allowances, allied to the ending of the "triple lock" guarantee for pension spending and reforms to social care rules, amounted to a "triple whammy" for pensioners.
Jeremy Corbyn told supporters in Peterborough talk of restricting winter fuel allowance had caused "great hardship and consternation" among pensioners.
"I've made it very, very clear, a Labour government will properly fund our NHS, properly fund social care and won't put older people through the indignity of losing their winter fuel allowance when they are already, too many of them, living in deep poverty and sadly some die of hypothermia."
He said: "We already have hypothermia deaths in winter, we already have fuel poverty in this country; that will get worse."
Brexit Secretary David Davis dismissed reports that up to 10 million pensioners might be affected as "guesswork", telling the BBC that the government would consult on means testing and the only people to lose would be "those who can afford it".
The Lib Dems said that while they backed means-testing of winter fuel allowances, proposed Tory reforms to social care funding – which critics have dubbed a "dementia tax" – were "utterly cruel and heartless".
Leader Tim Farron said plans to include someone's property in the means test for receiving free care in their own home would "clobber" families with dementia sufferers.
But speaking on a visit to Edinburgh, Theresa May said the idea was designed to ensure the system was sustainable and there was greater fairness between different generations.
Labour says curbs on winter fuel payments 'sick and sneaky'}