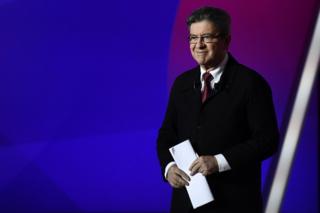 The 11 candidates standing for the French presidency are taking part in the final set-piece televised encounter of the campaign.
They are sharing a stage but will be interviewed individually for 15 minutes as they seek to convince the electorate ahead of Sunday's first round vote.
Opinion polls indicate that the race has tightened while around 30% of voters have still to decide.
Radical leftist Jean-Luc Melenchon opened with sharp criticism of the EU.
Election explained in five charts
The centrist, Emmanuel Macron, and the far-right candidate, Marine Le Pen, are seen as frontrunners to progress to the second round.
However, Francois Fillon of the centre-right Republican party and Mr Melenchon are also in the frame.
The candidates drew lots to establish the order of speakers, with Mr Melenchon coming first.
Asked if France should leave the EU, he replied: "We change it or we leave it." He said he believed in an "independent France orientated towards peace".
Asked about his controversial tax plans, he said: "We are actually going to tax incomes above 400,000 euros [£335,000; $429,000] a year at 90%".
The young alt-right making waves
Getting out the vote on an estate
French election: Candidates make final TV pitch